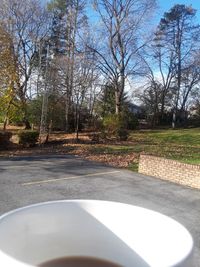 My view now, as I sit sipping coffee on a mild November day in Pennsylvania. But the beauty of this post is not contained in the photo, but in what it represents. This is a story of resilience, generosity, friendship and love.   
I am a singer/songwriter and a yoga teacher. I owned a yoga studio. It was a dream come true. I loved the people there. Everyone said it was such a peaceful and welcoming place.  But the pandemic took that away from me. In addition to losing my beloved studio, I also had to give up my apartment since I no longer had an income to sustain myself, (and although I have transitioned to online teaching, I need more time to build up my virtual studio).  
So, the view in this photo is beautiful to me. It's the view from my friends' home. They generously invited me into their home where I have been living since July. They are my friends that have been like family to me. For many years they have celebrated my victories, cried with me in my sorrows and supported me through my challenges. The pandemic has not changed that. They have been here for me 100%. A lot of people can say that they love you and can say that they have your back, but only a few people really stand by you when things get tough. My friends have stood by me, and welcomed me into their home with love and generosity. Losing my studio and my home to the pandemic was a painful challenge for sure, but I recognize that I am blessed to have my health and to have these dear friends.  
An additional struggle in this global pandemic has been being stuck on the opposite side of the world away from my wonderful partner. We have been in a long distance relationship for more than 4 years. Due to the pandemic, we haven't been able to be together for almost a year now. My friends have been amazingly supportive through all of this. They've gotten to know my partner through video chats and have made him feel like a beloved family member too. Like a miracle they have grown laughter and smiles within me during a season of tears.  
These dear friends are providing me with a safe sanctuary to weather the storm of life in their harbor of love where I can find comfort and strength while facing an unknown future. And I want you to know, that their love is much BIGGER than my story alone. I have observed them opening their hearts to others, accepting people for who they are, quietly supporting charities and neighbors, family and friends with a multitude of loving deeds and a generous spirit. Yes, there are definitely angels among us.  
On the other side of the world, my beloved man is fast asleep. I sit here, sipping coffee in the sunshine, feeling overwhelmed with gratitude and love. Even with so many challenges and heartaches, somehow love and gratitude still find a way through the darkness. It is bigger than you know.  
It is stronger than you realize.  
Recently I had the thought, that even when the borders open and I will finally be reunited with my wonderful man and begin building my future with him, I know that my happiness will be tempered with sadness at having to leave these dear friends and to miss out on all the small things that I treasure so much, like our meals together, our daily chats and our movie nights. Life is unfathomable at times, that it can overwhelm us with both loss and gain at the same time.  
I'll close with a reminder to love. To love right now, where you are and who you are with. The future is not guaranteed. We are all travelers here, and in the end all that matters is love.
**This was a post that I wrote for a Facebook Group called "What do you see out of your Window". I am sharing it here for those who are not on Facebook. 💕